'Your Dad spent a lot of time with me, and even gave me a lift in his car!' Hunter's hedge fund client gushed in 2015 email
FIRST ON FOX: A client of Hunter Biden's now-defunct firm visited the White House multiple times during the Obama administration, including visits with then-Vice President Biden and a top Biden aide, in addition to spending "a lot of time" with Biden during a casual New York City meeting arranged by the younger Biden, according to a series of emails reviewed by Fox News Digital
Nicolas Rohatyn, a Biden donor and the founder and CEO of The Rohatyn Group, met with Biden and visited the White House several times when Biden was vice president and when Hunter's now-defunct Rosemont Seneca Partners (RSP) was overseeing his hedge fund accounts.
Rohatyn's business relationship with Hunter appears to have started in March 2010, when Hunter and Eric Schwerin, RSP's then-president, discussed inviting him to a "Mexico Lunch." The Mexico State Dinner at the White House was held on May 19, 2010, so it appears the lunch occurred around this time.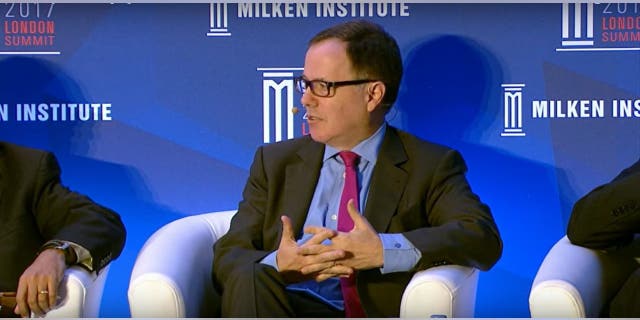 "Can we invite Nick Rohatyn to the Mexico Lunch? Evan said we may have some spots. Thoughts?" Schwerin asked, referring to Evan Ryan, President Biden's current White House cabinet secretary who was serving as his assistant at the time. Fox News Digital previously reported that Ryan, Antony Blinken's wife, was instrumental in coordinating invites for the Mexico State dinner.
"Yes," Hunter responded.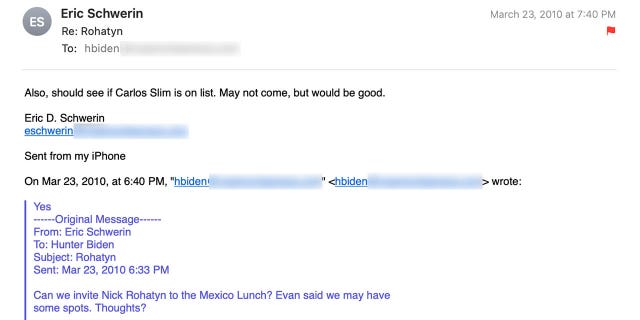 "Also, should see if Carlos Slim is on list. May not come, but would be good." Schwerin replied, referring to the Mexican billionaire who Hunter was seeking to do business with. It is unclear if Rohatyn attended the luncheon.
The next month, on April 14, 2010, Arlene Busch, a former RSP partner, emailed Hunter, Rohatyn and another partner at The Rohatyn Group, writing, "As you are aware, we just returned from China. Attached is a sample of the meetings we attended. Please contact me with any questions."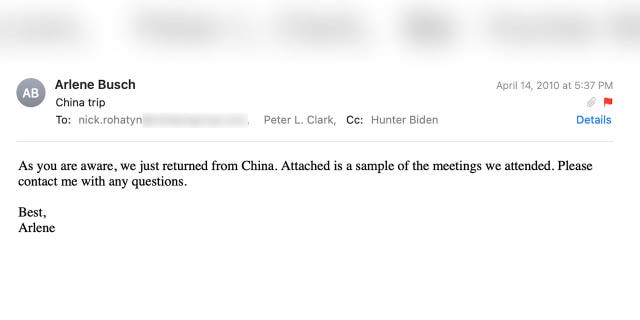 Months later on July 14, 2010, Rohatyn attended a policy dinner in New York City hosted by Hunter and Chris Heinz, a former RSP partner and the stepson of then-Sen. John Kerry, D-Mass. Emails planning the dinner suggest the dinner was designed to "bring an interesting and diverse group of people together and get some informative discussions going," including a "number of interesting financial, political and labor folks," according to Hunter.
"Among the confirmed attendees are NY Governor David Paterson and Pennsylvania Treasurer Rob McCord," Hunter Biden said in one email a week before the dinner. "We will also have the CFO of the NY State United Teachers, Bert Lesniewski, and Chris Chafe, who I believe you know who was with Change to Win and now is Exec Director of the Clean Economy Development Center.
Days following the dinner, RSP's Alexandra Stanton emailed Rohatyn thanking him for attending the dinner.
"I just wanted to send a brief note to thank you for participating in our policy forum last week. I know how valuable your time is, and I hope you found the interactions useful and the conversations stimulating," Stanton wrote, Cc'ing Hunter, Heinz and Busch.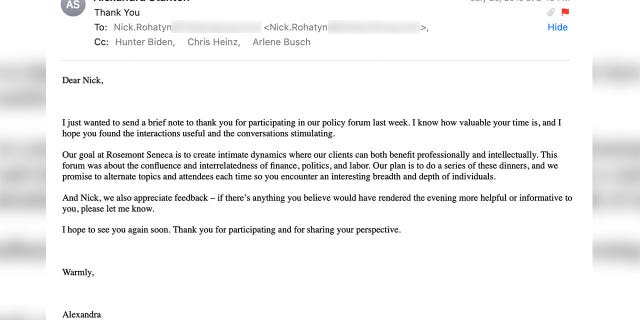 "Our goal at Rosemont Seneca is to create intimate dynamics where our clients can both benefit professionally and intellectually," she continued. "This forum was about the confluence and interrelatedness of finance, politics, and labor. Our plan is to do a series of these dinners, and we promise to alternate topics and attendees each time so you encounter an interesting breadth and depth of individuals."
Two months later, on Sept. 16, 2010, RSP's office manager Joan Peugh emailed Hunter about an upcoming meeting between Rohatyn and then-Treasury Secretary Lawrence Summers at the White House later that day, saying Biden could also meet with Rohatyn.
"Your dad can meet with Nick before his 145PM meeting with Sec. Summers," Peugh wrote.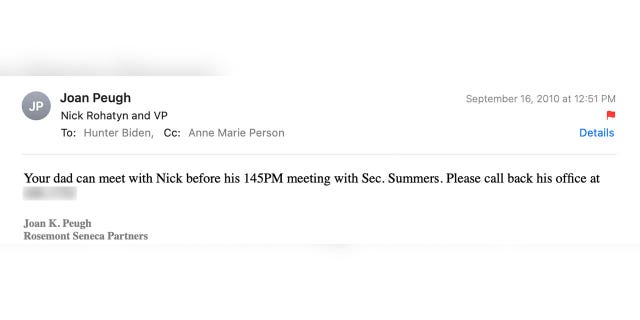 Rohatyn visited the White House that day, according to the visitor logs, but Summers is the only person listed as meeting with him.
The next day, Rohatyn wrote Hunter saying he enjoyed his visit with his father.
"Some constructive ideas along the same axis we discussed yesterday…jobs first, growth second," Rohatyn said, forwarding an article from economist Nouriel Roubini, titled, "What America needs is a payroll tax cut."
"I enjoyed my brief visit with your father – very cool guy," he added.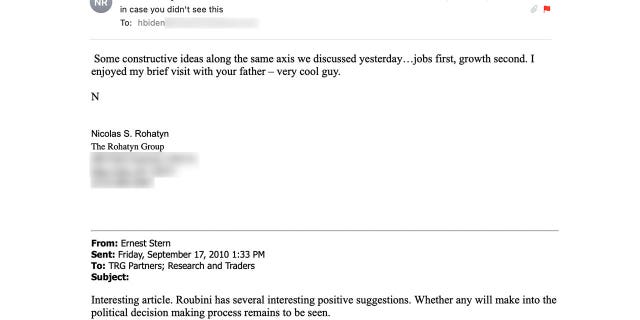 White House visitor logs show that Rohatyn made three other visits between 2009 and 2010. Two of the visits,  Nov. 30, 2009 and Feb. 2, 2010, were with Summers. He is also listed as attending an "Alvin Ailey Reception" at Biden's residence on Feb. 1, 2010. It is unclear what his relationship with Hunter Biden or Joe Biden was at that time.
Later that year, Hunter Biden introduced Rohatyn to then-Washington, DC Mayor Adrian Fenty and Greg Penner, who Hunter said, "runs Madrone Capital (Walton family office) is married to Carrie Walton and is most likely next chairman of board for Walmart."
"He is very interested in your 'third party' ideas and would like to meet you when he is in NYC next. It's probably against my interest putting you two together but I couldn't help myself," Hunter continued. "I think he will be in NY Nov. 10 & 11. Let me know if you have time for coffee or lunch. Hope all is well."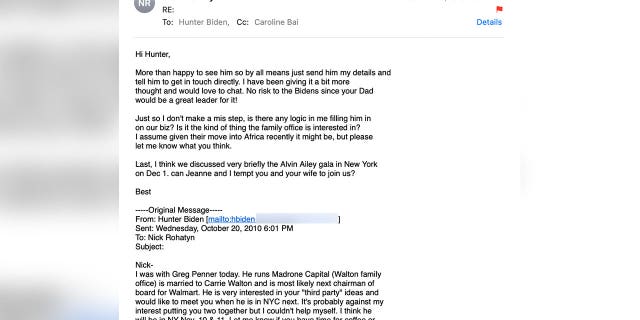 "More than happy to see him so by all means just send him my details and tell him to get in touch directly. I have been giving it a bit more thought and would love to chat. No risk to the Bidens since your Dad would be a great leader for it!" Rohatyn said. "Just so I don't make a mis step, is there any logic in me filling him in on our biz? Is it the kind of thing the family office is interested in? I assume given their move into Africa recently it might be, but please let me know what you think."
It is unclear what Rohatyn and Hunter were referring to.
On July 25, 2012, Schwerin emailed a list of names to Hunter with the subject line, "DRAFT List for Alan H.", which appears to reference Alan Hoffman, Biden's deputy chief of staff at the time. Rohatyn was the first name on the list, followed by several others. Fox News Digital could not confirm what this list was for.
6 months later Rohatyn was scheduled to have coffee at the RSP office in Washington on Jan. 22, 2013.
In the latter years of the Obama administration, Hunter appeared to be in contact with Rohatyn more frequently, according to emails reviewed by Fox News Digital. Hunter was scheduled to have lunch with Rohatyn at Blue Duck Tavern in the Park Hyatt hotel in Washington on May 13, 2015.
That July, Hunter arranged a meeting between Rohatyn and Biden in New York City after Rohatyn said he was trying to get a new terminal at LaGuardia Airport named after his father, Felix Rohatyn, who served as former President Clinton's Ambassador to France and was a prolific donor to Democrats. He passed away in December 2019.
"Hi Hunter I see that your Dad is in town today so it had me thinking of you. How are you holding up?" Rohatyn emailed Hunter on July 27, 2015, later adding, "I'm trying to get Cuomo to see me so I can ask them to name the new terminal at Laguardia for my Dad ( while he is still here and able to appreciate it ), but no success yet."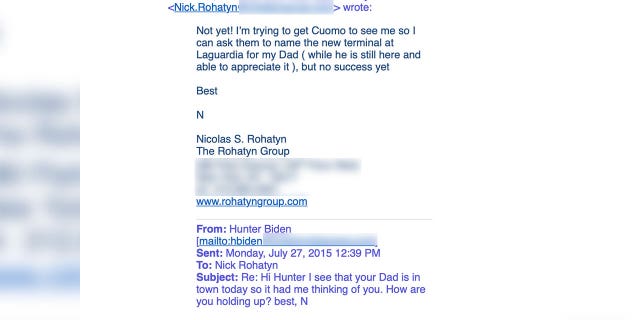 "I'd gladly ask Dad if he will weigh in," Hunter responded, "they have a good relationship and Beau and the Governor were close."
"If you will be in the area I'd love for you to get a chance to say hi to Dad," Hunter later added, "it's easy to arrange- someone can meet you and take you to his holding room to say hi."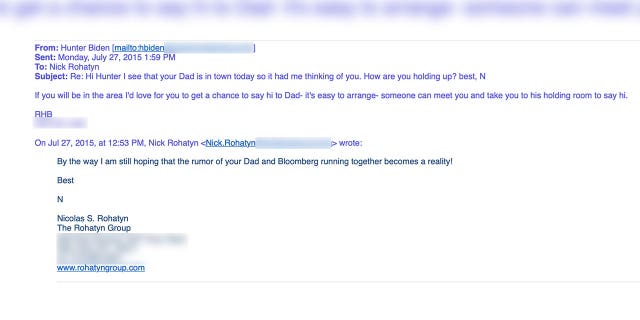 Hunter then arranged a call between Rohatyn and John Flynn, Biden's then-traveling chief of staff, writing, "He will do his best to link you and Dad at event."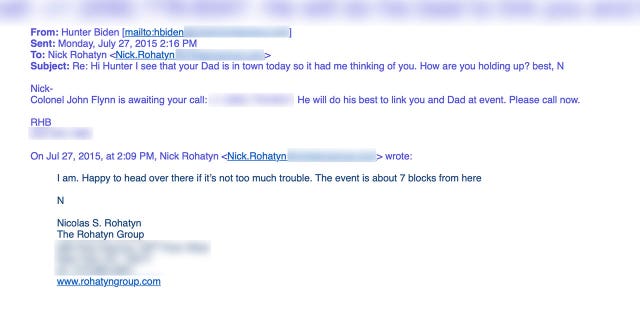 Later that day, Rohatyn thanked Hunter for arranging the meeting.
"Thanks so much, Hunter," Rohatyn wrote. "Your Dad spent a lot of time with me, and even gave me a lift in his car! A once in a lifetime experience for me. But mostly just a treat to spend time with him."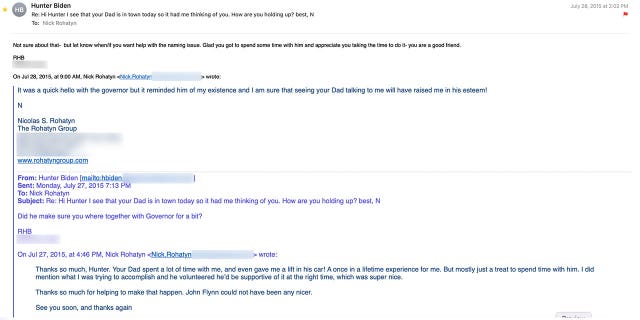 "I did mention what I was trying to accomplish and he volunteered he'd be supportive of it at the right time, which was super nice," he said. "Thanks so much for helping to make that happen. John Flynn could not have been any nicer."
Rohatyn did not respond to Fox News Digital's inquiry on the meeting and whether Hunter's business was brought up during the discussion.
That October, Hunter held multiple phone calls with Rohatyn, according to his emailed schedules.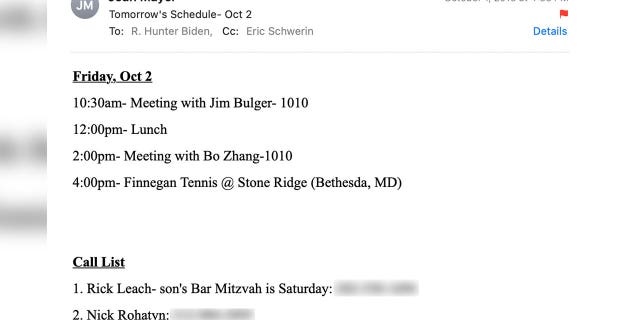 "Hunter I trust the family is well and at peace with this decision," Rohatyn emailed Hunter on Oct. 21, 2015, the same day Biden announced his decision not to run for president in 2016 following the death of his eldest son Beau.
"The announcement was classy, elegant, and down-to-earth, a perfect reflection of a person of great character," Rohatyn wrote.
The next month, on Nov. 12, 2015, Rohatyn visited the White House and met with Steve Ricchetti, Biden's then-chief of staff who currently serves as White House counselor, according to the visitor logs.
The next day, Hunter was scheduled to have lunch with Rohatyn, according to his emailed schedule.
Six months later, on May 11, 2016, Hunter was scheduled to have coffee with Rohatyn at the Dolcezza coffee shop at CityCenterDC in Washington.
Rohatyn apparently visited the White House again sometime in January 2017 before the Obama administration ended. Hunter emailed him, saying it was "good to see you the other day at the White House."
"Sorry we didn't have more time to catch up but as you can imagine that day was pretty hectic," Hunter wrote. "I wanted to see if you or someone on your team wanted to meet with Jonathan Li, the CEO of BHR Partners, a Chinese cross border private equity fund that Rosemont Seneca helped found and of which we are a shareholder."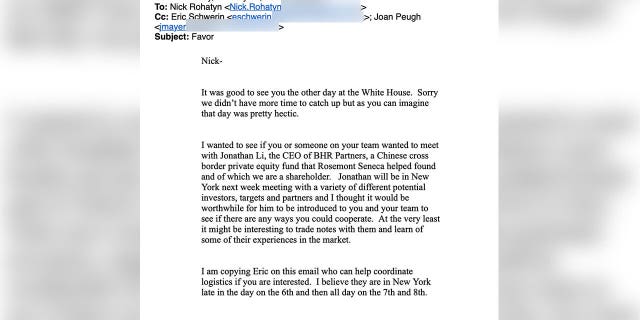 "Jonathan will be in New York next week meeting with a variety of different potential investors, targets and partners and I thought it would be worthwhile for him to be introduced to you and your team to see if there are any ways you could cooperate," he continued. "At the very least it might be interesting to trade notes with them and learn of some of their experiences in the market. I am copying Eric on this email who can help coordinate logistics if you are interested. I believe they are in New York late in the day on the 6th and then all day on the 7th and 8th. Let's catch up soon in person whenever our schedules permit."
Fox News Digital previously reported that Hunter introduced his father to Li during a trip to China in December 2013. At the time, Li was the CEO of Chinese investment firm Bohai Capital before he took the helm at BHR Partners, a Beijing-backed private equity firm co-founded by Hunter's business partner Devon Archer and controlled by Bank of China Limited.
"Thanks for the note. Happy to connect with Jonathan Li when he is here. Copying my assistant Caroline to coordinate, Rohatyn responded.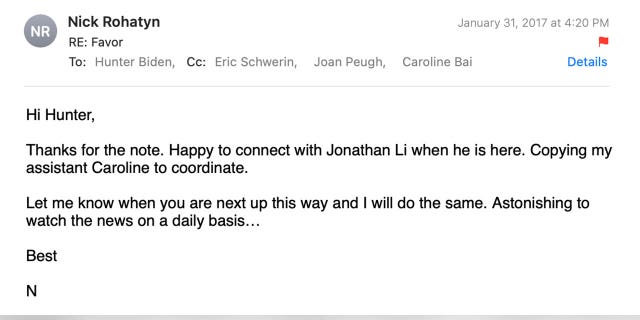 Between late 2017 and late 2018, there were several attempts by Rohatyn to connect with Hunter when he was in town, but it is unclear if Hunter scheduled the meetings.
Rohatyn later donated $2,800 to Biden's 2020 presidential campaign, according to FEC records.
Rohatyn, Hunter's lawyer and the White House did not respond to Fox News Digital's requests for comment.
The news comes ahead of a press conference this Wednesday by House Oversight Committee Republicans on new details surrounding the Biden family's business dealings.
Committee Chair James Comer, R-Ky., urged the Justice Department to hold on a potential Hunter indictment until after the press conference, arguing that the possible indictment could be just a "slap on the wrist" compared to their upcoming revelations.
"My message to the Department of Justice is very loud and clear. Do not indict Hunter Biden before Wednesday," Comer said during "Sunday Morning Futures."
"When you have the opportunity to see the evidence that the House Oversight Committee will produce with respect to the web of LLCs, with respect to the number of adversarial countries that this family influence peddled in, and this is not just about the president's son. This is about the entire Biden family, including the President of the United States. So we believe there are a whole lot of tips that the IRS and the DOJ don't know about because we don't believe they've done a whole lot of digging in this, and we have."
"By all accounts from the media reports that we're getting, what they're looking at charging Hunter Biden on is a slap on the wrist. It's a drop in the bucket," he continued. "So Wednesday will be a very big day for the American people in getting the facts presented to them so that they can know the truth, and then the Department of Justice can finally do what they should have done years ago."
Federal prosecutors are reportedly nearing a decision on a potential indictment stemming from a years-long probe into Hunter's possible tax and gun-related violations.
Fox News' Bailee Hill and Haley Chi-Sing contributed to this report.