Saudi Prince Alwaleed just rejected the offer, via Twitter:
"I don't believe that the proposed offer by @elonmusk ($54.20) comes close to the intrinsic value of @Twitter given its growth prospects. Being one of the largest & long-term shareholders of Twitter @Kingdom_KHC & I reject this offer."
The Saudi Prince apparently owns 5.2% of TWTR (since 2015)…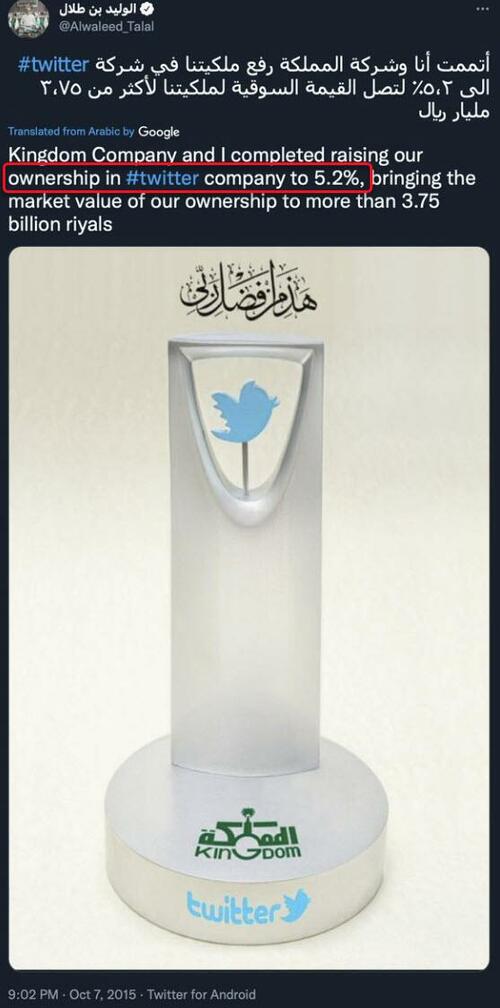 …and just like that, the gains were gone…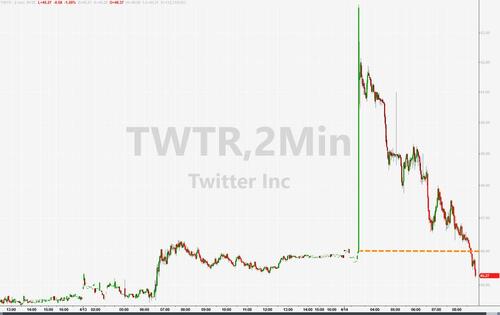 We wonder exactly what the "intrinsic value" of TWTR is – according to Alwaleed above?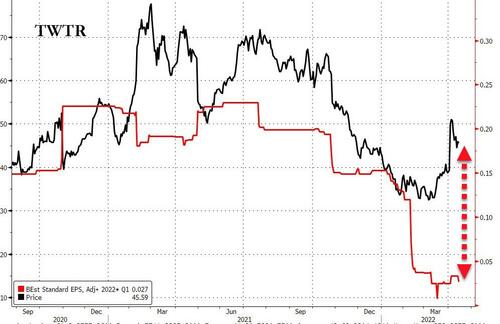 Of course, there is one winner if Musk's bid fails… "democracy."
*  *  *
Update (1105ET): Reuters reports Twitter will hold an 'all-hands meeting' with employees at 1400 PST (or 1700 ET) to discuss Elon Musk's offer to purchase the social media platform.
*TWITTER WILL HOLD AN ALL HANDS MEETING WITH EMPLOYEES AT 2PM PACIFIC TO DISCUSS MUSK OFFER -SOURCE
Twitter shares are fading quickly after reaching as high as $54 premarket.

Will Musk's bid satisfy Twitter management?
* * *
Update (1000ET): Twitter shares faded from premarket highs of $54 per share to around the mid-point of the $47 handle at the start of the US cash session. Some believe Elon Musk's offer is too low.
Here's what Wall Street analysts are saying about Musk's proposed takeover of the social media platform (courtesy of Bloomberg):
Piper Sandler (neutral; PT $45)
*"We are in uncharted territory with this situation," but a counteroffer is unlikely

*The offer price "seems reasonable"
Vital Knowledge
*"It seems hard to imagine TWTR's board would accept a $54.20/shr. bid given the stock was at $70 less than a year ago"

*The money might be a problem, as much of Musk's wealth is tied up in Tesla and SpaceX; while he could partner with other Twitter holders on a bid, "he would struggle to get together enough money to bump the price much beyond $54.20"
Bloomberg Intelligence
"Though there could be a competing bid, we believe any revised offer may not exceed $50 billion, given Twitter's mid- to high-teens growth"
CFRA
*Downgrades Twitter to hold from buy 

*"The offer price should be viewed as enticing to shareholders (near our $55 target price) and will be difficult to reject"

*If the offer is rejected, Musk could walk away rather than raise his offer, "which would likely drive shares considerably lower"
Wedbush (neutral; PT $42)
*"In our view, the deal does not get done at this level, and Twitter's Board will not view this offer, or Mr. Musk leading a change in the company as in the best interest of the company or shareholders"
Loup Ventures
*"Investors should welcome Musk first principles approach to running companies," as "he has a high capacity to try new things including direct monetization"
Oppenheimer
*Downgrades to perform from outperform, removes $60 price target

*Twitter "should trade at a 20-30% discount to SNAP on '22E revenue which would represent TWTR shares between $48-$54 on our current estimates"
Meanwhile…
Well this is awkward: TWTR board hired Goldman to "advise" it that the @elonmusk $54.20 offer is too low. Only problem: Goldman has a SELL rating with a $30 price target. Oops. pic.twitter.com/ViQXnXBD3C

— zerohedge (@zerohedge) April 14, 2022